There's a huge international grocery store where I live (or at least about 25 minutes away), and our family and friends were raving about it: though this store primarily has Korean goods, there are foods from other Asian cultures (Chinese, Japanese, Thai, Filipino, Vietnamese). They also offer European (French, Italian, German, Russian, Scandinavian), Middle Eastern and Latin goods. As you check out your items, you are then led to their food court, which also has a karaoke spot. Let me mention that this food court also has a Nature Republic store.
Nature Republic is a Korean beauty brand (though not as much as well-known as TonyMoly, Skin Food, MISSHA or The Face Shop) that prides itself on using "natural" products. Just because the name says "Nature" and their branding has the color green does not make them (or any other brand) "all-natural". I had to put quotation marks in between that word because I am getting more interested in green beauty, and one way I am educating myself is by going to Environmental Working Group's Cosmetics Database and researching which beauty brands and their products are considered clean (rated 1–3), moderately hazardous (4–6) or toxic (7–9). Nature Republic is overall rated a 4, which is a lot better than other K-beauty brands (MISSHA is rated 7, yikes! I love their Perfect Cover BB Cream too!) but still has some questionable ingredients. Overall, most of their ingredients themselves are rated 1–4, which is great (but some of the data is limited). What bumps up their "toxic" rating is the fragrance, which is rated as 8. More on that on another post, let's talk about the my haul…
After a long day of exploring this grocery store (and Cecilio getting frustrated that he could not find miso paste), we were getting hungry and we filled our bellies at the food court. I then went inside Nature Republic, testing, ooh-ing and ahh-ing everything. Cecilio laughed and was shocked with how I spent 40 minutes inside such a small beauty store. I mean, how could I not when I was trying everything and figuring out what I was going to get? #beautybloggerproblems
Hand & Nature Hand Cream in (Forest and Green Tea)
There were at least 15 different scents for the hand cream. I am usually drawn to clean, mildy sweet or earthy scents, so of course I chose the Forest hand cream (love the green packaging too with the owls and trees). This has a mild smell with some wooden notes. I also got the Green tea hand cream because the hand creams were buy one get one free. It smells much milder (and honestly, because of my weak sense of smell, I could hardly smell it). I gave it to Cecilio because I did not see a need for having more than 1 hand cream. I will say that this can easily fit even in the tiniest handbags.
Sheet Masks
How could I walk into a K-beauty store and not buy the one thing it's most known for?! I purchased two sheet masks: Real Nature Chamomile Mask Sheet and Real Nature Green Tea Hydrogel Mask. The chamomile mask was way too big for my face (along with the holes for the eyes and mouth). The nose part of the mask was dangling off of my nose. Other than that, I put this baby on my face for a good 15 minutes and my skin felt calmer and more hydrated. The redness on my nose [temporarily] faded too. The green tea hydrogel mask was split into two (the top half for your eyes and nose, and the bottom half for your mouth). The mask fit SO much better. I had this on for 20 minutes, and my skin felt smooth as a baby's butt.
Green Tea Body Scrub
I forgot to take a separate picture of this, but this has been my new shower staple! It has little granules that turn foamy as you lather them on your skin. My skin feels softer from using this. It contains green tea seed oil, which is supposed to protect water evaporation on your skin and retain the moisture.
Flower Blusher in "No. 4 – Candy Rose"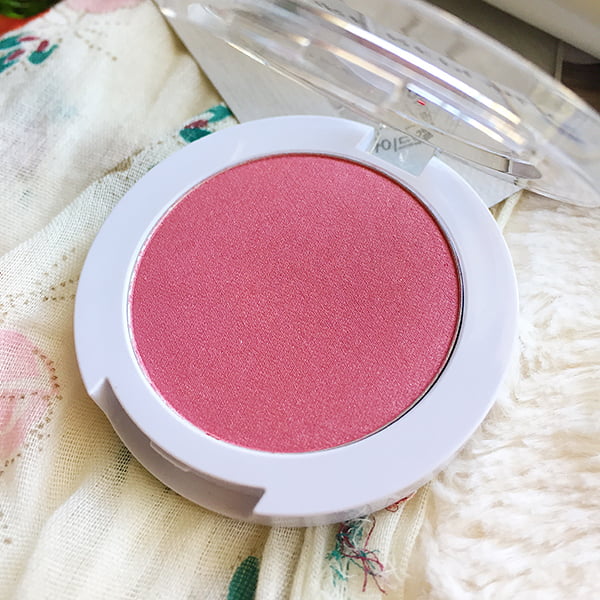 Nature Republic has some beautiful blushes! I chose the Flower Blusher in the shade Candy Rose since it was best suited for my tan skin. This powder blush is a warm Barbie pink with hints of small hints of shimmer. It is so pigmented, that you have to be careful to not put too much lest you look like a doll (though the doll-like look is popular in K-Beauty). This blush is perfect for the spring, and for all intents and purposes, spring has started where I live (I'm loving the 70-something degree weather in February!)
Fascy Twinkle Mojito Tint Gloss in "No. 2 – Rob Roy"
Now this lip gloss is not from Nature Republic but is sold there. Fascy is a Korean beauty brand known for its cute anime girl packaging, and they sold various lip products in the store. I loved the formula and feel of the Tint Gloss. The shade Rob Roy is a hot pink, which screams spring and summer! It is super pigmented and long lasting. I ate a burger wearing this and it stayed put pretty well! I would say the wear time is about 4–6 hours before it starts to fade, which is pretty impressive for a lip gloss. Even then, it gives you a "just kissed" stain.
It is a good thing that we don't live too close because I'd find myself here a lot, getting tempted to buy buy buy. I will say that Nature Republic's matte lipsticks are some of the creamiest, most comfortable lipsticks I have ever tested and I do regret not getting them. Cecilio and I were pretty overwhelmed at this grocery store so we'll probably be going here only once in a while, and when we do, I will treat myself to Nature Republic beauty products during these rare occasions! I am really impressed with their products so far.
Have you heard of Nature Republic? Do you have anything from them? What is your favorite K-beauty brand?